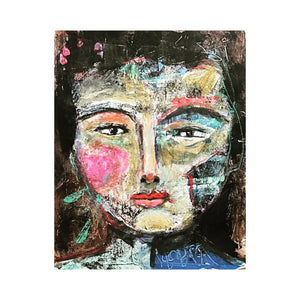 "Marta"-print of an original mixed media abstract face painting is now available in a professionally printed genuine artist canvas. This wall art is mounted on high-density warp resistant wood fiberboard and is ready to hang. I sign, and hand embellished each piece with acrylic paint, and then seal with a UV resistant finish, for a beautiful textured and realistic look. 
Comes in a 11"x14"x1.25" with black edges. Other custom sizes available upon request. 

Since each piece is special ordered, and hand-touched, please allow 3-4 weeks for delivery.

All rights reserved. Stacy Spangler Art. Copyright 2022.